Utilizing a Plan to Launch Your Book
by Patricia Grady Cox
The October 23, 2014, meeting of the Publishing and Book Promotion Meetup offered advice on having a book launch. Since my first novel, Chasm Creek, had just been published by High Hill Press in October, the timing was perfect for me. Or so I thought. Anyway, here is an edited version of the handout from that day (used with the permission of the handout author). The bolded text is from the handout. I'm not speaking to some of the advice, since I already had a webpage, blog, author page on Amazon, book trailer, etc. These notes only apply to my actual activity – what went well and what didn't.
1. Back into the date.
I took this to mean set a date far enough ahead that I'd have time to publicize it and was assured of having my books. Because I must get my books from my publisher, I had to cancel one date because the books didn't arrive in time. I waited until I had the books in hand before I rescheduled. Lesson: Don't get ahead of yourself.
2. Determine your budget.
This one was easy – zero to nothing (unless you count the cost of having to buy the books that would be sold)! But I did spend money on posters. Since I was able to design them myself, costs for printing at Costco were minimal. I had handouts, presentation materials, etc., already developed for the Holiday Author Event, so I was able to use them. Lesson: Utilize what you have.
3. Find a venue for a live launch and/or determine whether you will do a webinar or teleconference for a virtual launch.
I decided I'd like to have a live event, and the book launch should be held in Cave Creek, Arizona, because the history of that town inspired my setting of a gold mining camp in Territorial Arizona, near Fort McDowell and on a wagon road. I drove up with some friends to check out a few coffee shops (no book store in Cave Creek), and the first place we stopped, Janey's Coffe Co. and Bodega, was perfect. The owner was very willing and it only cost me $20 for an iced tea setup. He allowed me to bring a tray of cookies even though there were pastries available inside. Lesson: Don't be afraid to ask! This venue had never had a book-signing, and the owner at first seemed a little tentative – but he soon got into the spirit of it all and was a great promoter.
4. Consider partnering with a nonprofit and donating a portion of your proceeds to them.
This was certainly an avenue I had not considered before the Meetup session. I did talk to the director of the Cave Creek Museum, who is now evaluating my book for inclusion in their gift shop, and asked if she'd like to donate something a door prize in exchange for a mention at my event. She provided a lovely packet with certificates, flyers, etc., for a free family membership for a year ($100 value)! Lesson: Use the contacts you have (I'm a member of the Cave Creek Museum).
5. Decide if your launch will have a theme.
I did decide I would have an "Old West" theme, as befitted the coffee shop venue. I used Mexican style blankets for table clothes (for the payment and refreshment tables). The band played songs suitable to the period of the novel. The door prizes were two books on the history of Cave Creek, a book on Navajo history (books I actually used as sources when writing), and the family membership to the Cave Creek Museum. Lesson: This was easy advice to follow and people noticed and commented on how it all went together.
6. Write and send media releases.
I did develop a news release and sent it to the local weekly newspapers. The Sonoran News published great information about my novel in their Book Nook section. It seems they seldom take anything down from that page, so this will be good publicity for a long time. Two other media outlets ignored me. The Sonoran News also published a notice of the book signing, but with the wrong date. This was a result of having to change the date, but my mistake in not checking more closely before I sent out the revised news release. I also had to re-do two posters for the same reason. Lesson: Make sure your proofreading is painstaking! The newspaper did not correct the listing; they just pulled it. And the posters were displayed almost a week later than originally planned.
7. Invite the people to your launch!
I invited people via emails to my various lists and by posting information about the book launch on my social media sites. Lesson: Good to have these lists and social media following developed ahead of time. I did, and it was an easy matter to invite people!
8. Invite someone to be the MC of your launch; plan who will handle the money at your live launch.
I had more friends volunteer than I needed. So I had a great MC, I had someone at the selling table, and another person in charge of handing out tickets for the door prizes. Lesson: It's so nice to have friends!

9. Decide if you will do a reading, or just sign books.
I wanted the event to be primarily a celebration. Of the people there, many had previously purchased the book, and the rest bought when they got there. I didn't want to spend too much time trying to get sales, so I did not read. I did speak when the band was on break and explained the venue choice, since several people had asked, and also thanked my friends and my writing teacher (who also was in the band).
Arrange to have a table or other location out of the main traffic flow where you will sign your book.
I went around visiting people at their tables and signed books, and I signed some at the sales table. It was all very informal and I did a lot of visiting. Lesson: Do what is comfortable for you. Since I was not expecting, and did not have, long lines of people waiting for me to sign, this informal approach worked very well.
11. Celebrate your success!!!!
It was a great celebration! The music was outstanding, the venue was perfect, it was a sunny afternoon in the 70s, and I sold enough copies of CHASM CREEK to make me feel very successful. An afternoon full of fun and friendship – what better way to celebrate? We celebrated very well the success of managing to get a novel published!
 What I'd Do Differently
I would spend more time on publicizing the event earlier with more news releases and posters and utilizing the Internet. That seemed to be the only area that could have used more planning, thought, and effort. But since there were probably more than 50 people there, I can't say that I needed a lot more attendance. There were people I did not know, so some of the publicity must have worked. I did have a signup sheet and now have 27 new names to add to my e-mail contact group for news about blogs, events, and Chasm Creek. So that was also cause for celebration as a result of a very successful event!
_________________________
Patricia Grady Cox is a member of Western Writers of America and Women Writing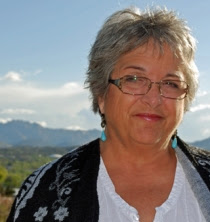 the West. Her nonfiction work has appeared in magazines, newspapers, and ghost-written memoirs. Patricia has volunteered at the Pioneer Arizona Living History Museum where she experienced, first-hand, the realities of life in the 1800s. Her love of the Southwest – the landscape, the history, the culture – infuses her work with authenticity. Originally from Rhode Island, she moved to Arizona 24 years ago and currently lives in Phoenix. Her debut novel, Chasm Creek, is currently available on Amazon or visit her website. Patricia blogs monthly at Patricia Grady Cox, Writer.