Getting an Early Start
by Patricia Cox
I am most in favor of (1) never giving up and (2) slow and steady wins the race. This is why I have a published novel, the very first draft of which was written 20 years ago. This is why I continue to follow all the marketing/promotion ideas I've garnered from the Phoenix Publishing and Promotion Meetup (thank you, Laura), my own research, and the advice of my writer friends known as the Snakebite Six. We meet once a month in what is part planning and part whining (I mean support), with pizza.
So far, as I think I may have complained about in my last blog, my sales have not been stellar. However, after reading that the average self-published book sells 250 copies (this is total, not annually, but as in forever), and the average annual earnings from sales are less than $300, I don't feel quite so discouraged. And I do place myself in the self-published category, due to nonexistent marketing support from my publisher. Not whining, just stating the facts.
We all know about networking, websites, blogging, participating in book events, launching, signings, and so on. All are valuable, yet none is likely to bring immediate results. So I've decided the secret is to start so far ahead of time creating a social media presence and cultivating followers that by the time I launch the particular book I have in mind, I've already got more than those 250 purchasers frothing at the mouth to buy.
Speaking of frothing at the mouth, the project that I've envisioned springing forth from
this early-start epiphany is my yet-to-be-written (or even completely thought through) children's book starring my dog Mustang Sally. She doesn't actually froth at the mouth; she's a very endearing, friendly, and smart Australian Shepherd. Cute as can be. I have a vague idea of a story suitable for children and I have the dog. And now the dog has her own Facebook page, which you are welcome to "like" if you're so inclined.
This page is in Sally's point-of-view and is laying the groundwork for a sales campaign sometime in the future, currently gathering "likes," and will eventually be developed into a website and a blog. We are already planning lucrative marketing possibilities, once the book is published: seasonal gifts (it's a Christmas story); gift shops and book stores at various tourist destinations (the book takes place at major tourist attractions across Arizona); partnering with an Aussie Rescue organization and offering a percentage of the profits; sales at various dog agility events.
I plan to start actually writing the book in 2016 and possibly have it ready for that year's Christmas season.
In the meantime, we are practicing our Facebook posts by chronicling Sally's epic road trip
across the country. From Arizona to Florida, to Washington D.C., to the New Jersey seashore, to Massachusetts and Rhode Island, then back across the country to South Dakota, then home. All she wants to do is ride around, Sally. She is having adventures she's never had before, has met new people, and has fallen in love for the first time. And, of course, she has no idea that she WILL eventually return home!
These are the thoughts and plans that pop up when you are driving 2,000 miles across the country, just you and your dog named Sue, I mean Sally, and have long evenings in motel rooms in the company of your laptop.
_____________________
Patricia Grady Cox is a member of Western Writers of America and Women Writing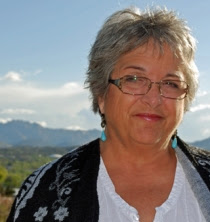 the West. Her nonfiction work has appeared in magazines, newspapers, and ghost-written memoirs. Patricia has volunteered at the Pioneer Arizona Living History Museum where she experienced, first-hand, the realities of life in the 1800s. Her love of the Southwest – the landscape, the history, the culture – infuses her work with authenticity. Originally from Rhode Island, she moved to Arizona 24 years ago and currently lives in Phoenix. Her debut novel, Chasm Creek, is currently available on Amazon or visit her website. Patricia blogs monthly at Patricia Grady Cox, Writer.