On the Road Again – The Writing Life
by Patricia Grady Cox
I recently returned from a two-month epic road trip across the country. Celebrating my retirement, going to my home state, visiting friends and relatives – I had a fantastic time. And I managed to find ways to incorporate promotion, research, and writing into the trip.
I mentioned in my last post that I was planning ahead by promoting my dog Sally's Facebook page. During our impressive travels, Sally kept a journal of her experiences and reactions. She picked up some new followers and, after we got home, one person (whom I don't know) actually posted concern that she hadn't heard from Sally for a couple of days! For those of you who have not yet "liked" Sally's page, please feel free to do so. Her posts have become so popular that requests have been coming in for her to publish her travel memoirs. So she may not have to wait for a Christmas book!
I also used the opportunity to promote my own novel, Chasm Creek. Since I was going to be visiting friends and relatives in New England (where I am from), I arranged for a book signing with a local independent book store in Providence, RI. I enlisted the help of those friends and relatives to spread the word, plus the book store did an amazing job of publicizing the event in their newsletters and with posters. The event manager was very pleased with the attendance and the sales (and so was I).
I made good use of my laptop and Wi-Fi at the homes of friends to continue working. I was able to garner a couple of excellent reviews from popular and well-known review sites (The Review in the United Kingdom and Story Circle Book Reviews).
I made sure to post that news throughout the ether. I also distributed bookmarks across the country.
Driving back from Massachusetts to Arizona, I spent several days in South Dakota, a state I have wanted to visit for many years. I was not disappointed with the history, the scenery, and the chance to gather information for future blog posts and novels. I was especially impressed with the Crazy Horse Memorial and the family of the original sculptor, Korczak Ziolkowski, and plan to use his story for several blogs on my memoir business website. Visits to Deadwood, Badlands National Park (site of some of the filming for Dances with Wolves), and the Buffalo Gap National Grasslands all provided much material for future novels and blogs posts.
Here's what I learned in two months of traveling: a writer never stops working, even if it looks like she's just driving around with her dog. And they grow a LOT of corn in Iowa!
________________________
Patricia Grady Cox is a member of Western Writers of America and Women Writing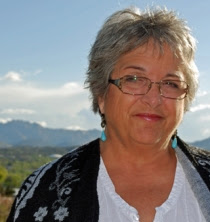 the West. Her nonfiction work has appeared in magazines, newspapers, and ghost-written memoirs. Patricia has volunteered at the Pioneer Arizona Living History Museum where she experienced, first-hand, the realities of life in the 1800s. Her love of the Southwest – the landscape, the history, the culture – infuses her work with authenticity. Originally from Rhode Island, she moved to Arizona 24 years ago and currently lives in Phoenix. Her debut novel, Chasm Creek, is currently available on Amazon or visit her website. Patricia blogs monthly at Patricia Grady Cox, Writer.