Blah, Blah Blogging
by Patricia Grady Cox
In any book marketing forum, the subject of blogging comes up. Our own Phoenix Publishing and Promotion encourages blogging, most recently offering a
challenge in which you commit to blog every day for 35 days in a row. Sort of like climbing Mount Everest. For some of us, it's like climbing Mount Everest in flip flops.
Of course, I can see the value in it. The question is: can I do it? We all have until the 13th of September to decide.Regardless of that decision, I have made a blog commitment. (drum roll, please.) Beginning in September (so I get to procrastinate for another day or so), I plan to blog once a week and post the blogs on Wednesdays. EVERY WEDNESDAY. I understand the promotional opportunities: I'll get to announce the blogs, people will get used to seeing them, they'll start to tune in each week, I'll develop a following, and so on.
Content is now the question. For my author page, there are numerous topics. I write historical novels, so I aim my blogs at my readers (or potential readers). I try not to write about whatever my process is, something that would mostly interest other writers. I try to write about topics that would interest the same people that would enjoy my books:
historical sites in the southwest, interviews with reenactors, how I did my research, and so on. I'm actually eager to do more blogs on topics such as: medical treatments in the 1800s (anyone see the kidney stone segments in HBO's Deadwood?); book reviews of nonfiction books I'm reading for research purposes; historic sites I've visited.
Content for the other blog is more problematic. It's attached to my memoir business. What would customers contemplating having their personal history published want to read in a blog? Short segments of my own personal history (writing examples)? Information on why and/or how a personal history book is developed? Choices in publishing? I am still trying to figure it out. And I will.
Look for my weekly blogs beginning September! Visit PCoxWriter for historical/western information. Family memoirs/personal history stories are at IRWPersonalBiographyService.
How do you decide on topics? How often do you blog? Comment and let me know. Thanks!
___________________
Patricia Grady Cox is a member of Western Writers of America and Women Writing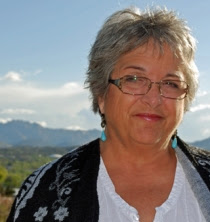 the West. Her nonfiction work has appeared in magazines, newspapers, and ghost-written memoirs. Patricia has volunteered at the Pioneer Arizona Living History Museum where she experienced, first-hand, the realities of life in the 1800s. Her love of the Southwest – the landscape, the history, the culture – infuses her work with authenticity. Originally from Rhode Island, she moved to Arizona 24 years ago and currently lives in Phoenix. Her debut novel, Chasm Creek, is currently available on Amazon or visit her website. Patricia blogs monthly at Patricia Grady Cox, Writer.