Trick or Treat
by Patricia Grady Cox
My trick is that I'm again writing a blog on Halloween, but I'm going to ignore that fact and pretend it's just a regular day. I'm sure there are enough Halloween/All Saints/Day of the Dead blogs/posts/articles and cartoons – easily found – to feed any needs related to those topics.
Do I have a treat? You be the judge. I just returned from a five-day Association of Personal Historians conference. I attended every workshop and panel I could find that had to do with marketing. I did this because I have a memoir business ("I Remember When . . ." Personal Biography Service) that I'm trying to launch. But I was aware, even at the time, that I was also coming across some marketing and promotion information that would be useful for anybody trying to promote anything – including a book.
Here are a few things I learned that we might not have already heard all about via the Phoenix Publishing & Book Promotion Meetup group (or you may have but I missed it):
One presenter suggested creating a virtual "customer" (or reader). Name him/her. Describe him/her. Provide a job, a home, an income level, interests, family members. Make this virtual person/customer absolutely REAL. And then consider them every time you have a marketing/promotional idea: "Will Susie/Henry like this? Will this idea appeal to Susie/Henry? Will such an event/book cover/synopsis/fill-in-the-blank catch the eye of Susie/Henry?
Almost every workshop stressed the need of being "personal." Let your readers know WHO you are. Reveal yourself. Reveal parts of yourself that make you a real person that they can relate to and connect to. You are a story-teller, whether your books are fiction or nonfiction. Tell a story about yourself that makes it easy for your potential readers to relate to you. Tell a story about your book that creates an emotional response in your potential reader.
Here are a few suggestions that came up time after time so they may well be worth looking into further:

Use video. Embed video on your webpage—of yourself, testimonials of happy customers/readers, presenting points from your nonfiction book. Use video by creating your own YouTube channel using your own name so it can be searched. Less than 90 seconds, please.
If your primary target audience is baby-boomer women, use Pinterest. Fastest growing social media for that group.
Several presenters raved about using Facebook for targeted advertising.
So, don't be scared! Try something new this month, this week, or today!
__________________
Patricia Grady Cox is a member of Western Writers of America and Women Writing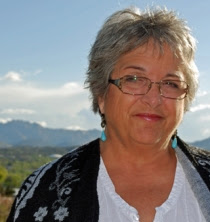 the West. Her nonfiction work has appeared in magazines, newspapers, and ghost-written memoirs. Patricia has volunteered at the Pioneer Arizona Living History Museum where she experienced, first-hand, the realities of life in the 1800s. Her love of the Southwest – the landscape, the history, the culture – infuses her work with authenticity. Originally from Rhode Island, she moved to Arizona 24 years ago and currently lives in Phoenix. Her debut novel, Chasm Creek, is currently available on Amazon or visit her website. Patricia blogs weekly at Patricia Grady Cox, Writer.