HAPPY NEW YEAR?
by Patricia Grady Cox
New Year's Eve again. Already! Or is your reaction, "What took so long? I thought this year would never end!"
I'll bet many of you are glad 2015 is coming to a close. It seemed to contain an incredible amount of tragedy.
Headlines about murders began in January with 12 killed at the office of "Charlie Hebdo" in Paris; a Virginia newscaster and her cameraman shot dead on live television in August; 10 people killed, 9 injured at Umpqua Community College in Oregon in October. November brought 120 dead in Paris by the automatic weapons and bombs of terrorists; and December brought us the disgruntled employee/terrorist murder of 14 coworkers during a holiday party.
Also, not mass murders but the whole issue of cops shooting young black men, often unarmed.
Besides the usual methods of killing people in planes (bombs and rockets), there was the copilot who decided to fly his passenger jet into a mountainside in the Swiss Alps.
Then mother nature joined in with more than 3,000 dead in Nepal from an earthquake and thousands dead in India due to a heat wave. Not to mention the floods, tornadoes, blizzards, etc., in this country. I'm too depressed now to add up the death count. It continues even today with news of more weather-related deaths.
Politicians in our own country call for closed borders to refugees, even as millions flee certain death in Syria, and we see pictures of drowned toddlers and devastated parents on the news.
There was some hopeful news of increased tolerance and respect for others' rights when The U.S. Supreme Court ruled that same-sex marriage is constitutionally protected in June. The Boy Scouts of America's executive board followed that lead in July by ending a ban on openly gay scout leaders. But in September there were many steps backwards when Kim Davis, County Clerk in Kentucky, decided she had the right to deny marriage licenses to gay couples. Cheering crowds greeted her upon her release from jail, including at least one presidential primary candidate.
If you want good news, you can to GatesNotes.com, but I found that among the top six good news stories from around the entire world, one was "SAT Prep Test is Now Free for Everyone." It looked to me like Mr. Gates was scraping the bottom of the barrel to come up with significant "good news."
Since the world in general seems to be in such a bad place, and since our individual chances of having an impact are slim, maybe it would be best to concentrate on our own lives. I plan, on New Year's Eve, to make a list of all the GOOD things that happened to me, personally, in 2015 (and there were many). I will carry that personal feeling of gratitude into the new year. Maybe if everyone does that, we can collectively create enough positive energy to make a difference in 2016.
_____________________
Patricia Grady Cox is a member of Western Writers of America and Women Writing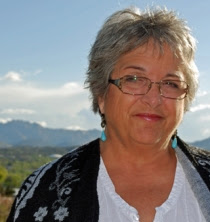 the West. Her nonfiction work has appeared in magazines, newspapers, and ghost-written memoirs. Patricia has volunteered at the Pioneer Arizona Living History Museum where she experienced, first-hand, the realities of life in the 1800s. Her love of the Southwest – the landscape, the history, the culture – infuses her work with authenticity. Originally from Rhode Island, she moved to Arizona 24 years ago and currently lives in Phoenix. Her debut novel, Chasm Creek, is currently available on Amazon or visit her website. Patricia blogs weekly at Patricia Grady Cox, Writer.