It's Almost Here!
by Patricia Grady Cox
For Arizona readers and writers, the biggest days of the year will be here before you know it. I'm talking about the Tucson Festival of Books. This year it will be held March 12 and 13 on the University of Arizona campus.
Bigger and better every year, the Festival truly has something for everyone. Children's area, fiction, nonfiction, workshops, panel discussions. All genres. All topics. Big name authors and debut authors.
Here is my list of tips for people who are planning to go for the first time:
Go to the Festival website. Now. Each of the participating authors is listed with a short biography and list of their books. If they are on a panel, the subject and day/time of that is also included. You can be sure not to miss your favorite authors. And you might find a few you didn't know who become your favorite authors. You can search by genre or by author name.
Once you're familiar with the authors and events, it's time to choose which ones you want to see. There is a computerized scheduler you can use. Just click on the events you find interesting. You can print out your itinerary and have a list of each event, times, venues, and participants. I always choose at least two, sometimes three, for each time slot. That way if one is too crowded, too far across campus, or I've just changed my mind, I have the alternative right there.
Get there early. There is free parking all around the campus, but if you don't get there early, you'll be walking a long way or paying. Also, you sometimes have to immediately get into line for tickets to an author who is extra popular. If you didn't print out a map of the campus from the webpage, you can pick one up at one of the many information booths.
If this is your first year, go read No. 2 again. Have a plan for both days already worked out. Once you get there, it's crowded, distracting, and overwhelming. Plan times to have lunch; there are many excellent food vendors. Don't overbook yourself with events. Leave time to wander among the hundreds of vendor tents – all writing related.
While you're wandering around the campus, be sure to stop at the Central Author Pavilion where you can meet and chat with a variety of authors who are selling and signing their books. If you go from 12:15 to 2:15 p.m. on Saturday, that would include me. I hope to see you there!
Photos are from the Festival's webpage
_____________________
Patricia Grady Cox is a member of Western Writers of America and Women Writing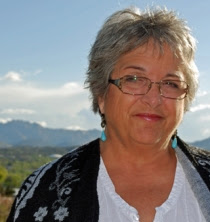 the West. Her nonfiction work has appeared in magazines, newspapers, and ghost-written memoirs. Patricia has volunteered at the Pioneer Arizona Living History Museum where she experienced, first-hand, the realities of life in the 1800s. Her love of the Southwest – the landscape, the history, the culture – infuses her work with authenticity. Originally from Rhode Island, she moved to Arizona 24 years ago and currently lives in Phoenix. Her debut novel, Chasm Creek, is currently available on Amazon or visit her website. Patricia blogs weekly at Patricia Grady Cox, Writer.