Some Things Never Change
by Patricia Grady Cox
I left New England for Arizona 25 years ago. Like many of the pioneer women of the 1800s (sort of), I kept a journal of the trip. My journaling has been hit or miss – mostly miss – since

then, so when a recent decluttering spurt revealed those little books full of writing, I took some time to read through them.
I came here on my own, by myself, with no job and no friends. I kept reminding friends and family that I would still be in the United States and that the street signs would be in English. Eventually I purchased a small stuffed Wile E. Coyote, so when people began ranting about me going all by myself, I'd show them Wile and say I wasn't alone. I don't suppose that did much to reassure them of my sanity.
I wonder if the family and friends of the women who climbed into those covered wagons in the 19th century were beseeching them not to leave. I'm sure at least some relatives and
friends thought they were crazy. Of course, there was much more reason to be concerned then. Settlers didn't really expect to see their families again; settling in the Western territories could be compared to colonizing Mars. They weren't a five-hour flight away – they were a world away. The harshness of their travel and their lives was real and sometimes fatal. My trip was easy, in an air-conditioned pickup with The Eagles providing musical accompaniment.
Reading through my journals, one thing I might have had in common with those women surprised me: I found many entries in which I talked about being scared. I don't remember being scared, but there it is, in my own handwriting. And so, I imagine, were those pioneers.
But we all went anyway.
I'm glad we did.
_______________________
Patricia Grady Cox is a member of Western Writers of America and Women Writing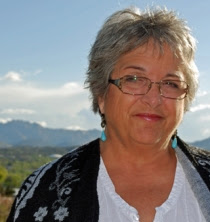 the West. Her nonfiction work has appeared in magazines, newspapers, and ghost-written memoirs. Patricia has volunteered at the Pioneer Arizona Living History Museum where she experienced, first-hand, the realities of life in the 1800s. Her love of the Southwest – the landscape, the history, the culture – infuses her work with authenticity. Originally from Rhode Island, she moved to Arizona 24 years ago and currently lives in Phoenix. Her debut novel, Chasm Creek, is currently available on Amazon or visit her website. Patricia blogs weekly at Patricia Grady Cox, Writer.