A Personal ZOO
by Patricia Grady Cox
Several years ago, I noticed an alarming increase in animal attacks against humans. Bears eating people, mountain lions stalking hikers, killer bees, and perhaps the worst of all: that woman who jogged several miles to her car with a rabid fox hanging from her arm. I emailed these articles to my sister and told her I suspected the animals were colluding to take over the planet.
Obviously, those emails were hacked, intercepted, and my idea stolen. Someday I will get a lawyer and go after James Patterson (author of Zoo), but that's not a story for today.
Now I am having my own private Zoo episode at my house. A block wall provides the backdrop for my native plantings: prickly pear, giant saguaro, Texas sage, chuparosa, brittlebush, desert willow, and a gigantic creosote bush. I love the creosote bush, which infuses the whole yard with that "rain in the desert" fragrance during and after every storm.
But here's the problem. This flora provides cover for several entryways for a gigantic ground squirrel subdivision.
These squirrels occupy underground dens beneath my garden. They spend their days climbing, running along the top of the block wall, and taunting Mustang Sally, my Australian Shepherd who stands guard at the patio sliding doors. When she sees a squirrel, she jumps up, slobbers all over the glass, and warns me of the invasion with earsplitting barks. Several times a day. Despite that, we've all been cohabitating, more or less peacefully, for years. They haven't caused any major problem.
Until I noticed that my patio rug was slowly disappearing.
It started with a frayed edge. The frayed edge increased daily. Now it appears to have areas resembling tiny actual bite marks. The rug is slowly disappearing. Coincidentally, the number of times Mustang Sally throws herself against the sliding doors has significantly increased, and her barking has become more frantic. Eventually I was able to come to the only rational conclusion: the squirrels are ON THE PATIO! And the squirrels are slowly stealing the rug!
I imagine them relaxing in their underground dens. They dine on fresh citrus from the neighbor's tree, relaxing on their new indoor/outdoor carpeted floor. I imagine them laughing at the dog who can't get past the closed patio doors and, when turned loose, can't get more than her snout down their holes. Maybe they have tiny recliners and a small wide-screen tv. They drink pitchers of Tequila Sunrise from little cocktail glasses and gleefully toss orange peels up and out of their tunnel. Today it's the rug. Tomorrow – what?
And be warned, James Patterson. If I see a novel, a bookshot, or a television series about the lives of these evil little rodents, I'm reporting you to the Authors Guild!
___________________
Patricia Grady Cox is a member of Western Writers of America and Women Writing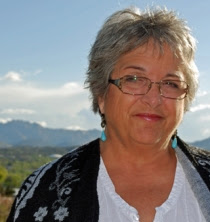 the West. Her nonfiction work has appeared in magazines, newspapers, and ghost-written memoirs. Patricia has volunteered at the Pioneer Arizona Living History Museum where she experienced, first-hand, the realities of life in the 1800s. Her love of the Southwest – the landscape, the history, the culture – infuses her work with authenticity. Originally from Rhode Island, she moved to Arizona 24 years ago and currently lives in Phoenix. Her debut novel, Chasm Creek, is currently available on Amazon or visit her website. Patricia blogs weekly at Patricia Grady Cox, Writer.