How to Build a Scarecrow – but Should You Bother?
by Patricia Grady Cox
Recently a flock of pigeons has taken to roosting on the roof of the neighbor's shed, right near the wall overlooking my pool. I've had problems before with thirsty pigeons.
Since Halloween was approaching, I Googled "How to build a scarecrow." Evidently it's not complicated. Get two poles, one longer than the other. Either nail them together or tie them with twine. I personally think a nail is a better idea. Wouldn't the cross bar slip down easily if it's just tied in place? But there is a YouTube video in which a woman actually spends several minutes demonstrating and explaining how to tie a knot.
Let's see. If I'm going to stand it up on the ground, I need to hammer the long pole into the ground, which is like concrete this time of year. I could just lean it against something or even put it together so it can sit on a bench (in which case I could use a shorter pole down the middle). That might work. Pull the garden bench up to the pool and sit him there, overlooking the spa where they most like to drink.
I'll need a shirt, pants, and a head. Tie all the openings shut with string, button the shirt after hanging it on the cross pole, and stuff everything with hay. Or my favorite suggestion: use those plastic shopping bags that the dog doesn't poop enough to use up.
I can hitch the pants to the shirt and tie the head onto to the top. I can use a burlap bag or a pillowcase or whatever for the head. Maybe one of the six million tote bags I have in the garage from various conferences and events. I just need to decide if I want to make the face with markers or sew on pieces of cloth for eyes, nose and mouth, or use buttons. It doesn't matter if it looks awful. That's the whole idea.
I could go the other way and use hot glue and pipe cleaners and whatever to make a veritable work of art. Also, if I want to get fancy, I can "accessorize" the scarecrow. Yes, this was a suggestion on one of the web pages. Hands made from garden gloves, shoes, hats, scarves. Let your imagination be your guide. Just stuff it and tie it on.
You could make a scarecrow! It makes a nice addition to your outdoor fall decor. But don't expect it to actually scare away a crow (or a pigeon or any other flying creature). They don't work, and this was well known as long ago as 1888, where the preferred method of scaring away crows was to shoot them. My favorite book, The National Farmer's and Housekeeper's Cyclopaedia, published by F. M. Lupton in 1888, says the following about banishing crows from the field:
The most effectual method of banishing them from a field, as far as experience goes, is to combine with one or the other of the scare-crows in vogue the frequent use of the musket. Nothing strikes such terror into these sagacious animals as the sight of a fowling piece and the explosion of gunpowder, which they have known so often to be fatal to their race.
However, it's illegal to discharge a firearm within the city limits anywhere in Arizona. From the State legislature: "A person who with criminal negligence discharges a firearm within or into the limits of any municipality is guilty of a class 6 felony." So I'll make the scarecrow, sit it on the bench, and accessorize it with a musket (unloaded) in its lap.
Pigeons, be gone!
____________________
Patricia Grady Cox is a member of Western Writers of America and Women Writing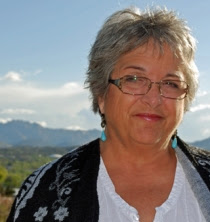 the West. Her nonfiction work has appeared in magazines, newspapers, and ghost-written memoirs. Patricia has volunteered at the Pioneer Arizona Living History Museum where she experienced, first-hand, the realities of life in the 1800s. Her love of the Southwest – the landscape, the history, the culture – infuses her work with authenticity. Originally from Rhode Island, she moved to Arizona 24 years ago and currently lives in Phoenix. Her debut novel, Chasm Creek, is currently available on Amazon or visit her website. Patricia blogs weekly at Patricia Grady Cox, Writer.