[Editor's Note: This is Patricia's last post for our group blog. Please check her bio below for information about how to keep up with her in other places.]
How Do You Keep Going?
by Patricia Grady Cox
Although we are all working on publishing and marketing, we first must write the book. I don't believe in writer's block and have never had it. I have, however, had periods when it was really, really hard to continue working on a project.
The biggest roadblock to completing a project for me is perfectionism. Going over and over the same chapter or page or scene until it's perfect and you're crazy. My method is to do
what Anne Lamott suggested in Bird by Bird: give myself permission to write a shitty first draft. By the end of it, at least I know what the story is going to be (because often there are big roadblocks or forks in the road and the story doesn't always go where you want it to!). And by the end of it, I know my characters. Subsequent drafts are for filling in, polishing, perfecting.
Julia Cameron, author of The Artist's Way, was the keynote speaker at the 2016 Women Writing the West conference in Santa Fe in October. She encourages writing three pages every day, your "Morning Pages." How long this takes is variable: some journals are pretty small. Or you could use 8.5" x 11" lined notebook paper in a binder (that's what I do). It doesn't matter what you write or if it makes any sense – nobody else is ever going to see them. At the end of each month, I shred mine. Their only purpose is to connect my creativity to my pen.
Cameron also said it doesn't matter how long you then write each day on your book or novel or memoir. If all you can manage is 20 minutes of writing, then write for 20 minutes. That's more than you had before you sat down. More than you had yesterday. If you wrote 250 words a day, you'd have a 360-page book by the end of the year.
Another activity she encourages is what she calls an Artist's Date. That's taking some time each week doing something that will feed your creativity, refresh you. It can be anything, as long as it's away from your normal routine and/or surroundings. And it can be a couple of hours or a whole day. Whatever works for you. Have fun!
One day, I went to the Desert Botanical Garden and walked around. Another time I went to a coffee shop in Cave Creek, sat outside and wrote (journaled, not working on my novel). The zoo, a hike in the mountain preserves, a trip to the dog park. For me, being outside is the key. When you commit to spending this time to refresh your creativity, in whatever form that takes, you reinforce your belief that you are a writer, an artist who expresses through writing, and what you do is important. That you are important.
I hope you have a wonderful 2017 and that you meet (with Laura's help) all of your goals for writing, publishing, and marketing your creations.
________________________
Patricia Grady Cox is a member of Western Writers of America and Women Writing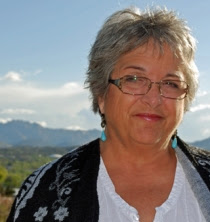 the West. Her nonfiction work has appeared in magazines, newspapers, and ghost-written memoirs. Patricia has volunteered at the Pioneer Arizona Living History Museum where she experienced, first-hand, the realities of life in the 1800s. Her love of the Southwest – the landscape, the history, the culture – infuses her work with authenticity. Originally from Rhode Island, she moved to Arizona 24 years ago and currently lives in Phoenix. Her debut novel, Chasm Creek, is currently available on Amazon or visit her website. Patricia blogs weekly at Patricia Grady Cox, Writer.