Bite the Bullet, Not the Bait
Patricia Grady Cox
You've worked for years on your novel or nonfiction book. Written, researched, rewritten, edited, and polished. You've written your query letters to send with synopsis or book proposal. You've attended conferences and workshops. Networked, blogged, posted. Submitted.
And then – one day – you receive the offer of a contract from a small press. This is the most exciting day of your life. Someone wants to publish your book! It will be so much easier than having to do everything yourself!
Time to celebrate? Maybe.
First, wait. Step back. Do your research.
Bite the bullet, not the first bait that's dangled in front of you.
There have been many stories about the perils of small and independent publishers. You can read about them at websites such as WriterBeware and AbsoluteWrite. There is a need for these cautionary webpages. There are others, I'm sure. These are just two that I'm familiar with.
Here are my words of advice for anyone contemplating signing with a small press:
Do your research and due diligence. Google that publisher and then google them again. Check the webpages noted above. Check Facebook. Look for other authors who published with them, and don't be shy about asking for information.
If you can afford it (or know one or have one as a friends), have an attorney review any proposed contract. The Authors Guild legal department reviews contracts and offers suggestions for free to members of the organization. Be especially aware of the paragraph concerning termination of rights. It should be time-limited and specific.
Contact the Better Business Bureau of the state in which your publisher resides.
Do not assume that appearing on a panel for a national organization means a publisher or editor is legitimate. Appearance on a panel is not an endorsement or recommendation.
Don't forget, the same warnings apply to any company that offers to help you with your self-publishing!
If you want to put the time and effort into independent publishing, you can do it. There are books and blogs and organizations to help you. One, of course, is the Phoenix Publishing and Book Promotion group. You can get information, opportunities, and support from fellow authors through such groups. Good luck!
_____________________
Patricia Grady Cox is a member of Western Writers of America and Women Writing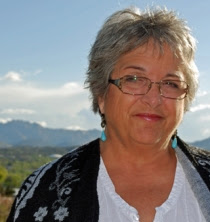 the West. Her nonfiction work has appeared in magazines, newspapers, and ghost-written memoirs. Patricia has volunteered at the Pioneer Arizona Living History Museum where she experienced, first-hand, the realities of life in the 1800s. Her love of the Southwest – the landscape, the history, the culture – infuses her work with authenticity. Originally from Rhode Island, she moved to Arizona 24 years ago and currently lives in Phoenix. Her novel, Chasm Creek, is available on Amazon or through her website. Patricia blogs weekly at Patricia Grady Cox, Writer. Her second novel, HELLGATE, will be released by Five Star Publishing on April 15, 2018, and is available for pre-order.