Abnormal Paranormal (or Ghosts and Cowboys)
by Patricia Grady Cox
I'm currently writing my third novel, set in a fictional town loosely (very loosely) based on the Pioneer Arizona Living History Museum, located northeast of Phoenix. The story centers around the Ashurst Cabin – one of the buildings at the museum actually moved there from its original location.
Since some of my characters live in my fictional Territorial town, certain scenes take place after dark. So when I saw a post on Facebook about a Full Moon Ghost Tour at the museum, offered by the Phoenix Arizona Paranormal Society, I immediately signed up.
Our leader, Jaime, had a case full of ghost-buster equipment: gadgets to measure changes in energy or electrical waves or temperature; a handheld device that picked up sounds (lots of static, once in a while a noise that could be construed as a voice); one that interpreted noises into words; something that threw off green laser dots to enhance any ghostly shadow. He told us about spirits previously encountered at the museum, showed us photos of strange light formations, and so on.
The Society's mission, according its webpage, is to "capture both video and audio signatures of a paranormal activity simultaneously to prove the existence of life after death." Learn more about them here: http://www.phoenix-arizona-paranormal-society.com/home.html
We went into several buildings from the 1800s, which the museum had moved from their original locations. I had hoped to go inside the Ashurst Cabin, located at the far southern edge of the grounds, but the museum employee told us a pack of wolves, or wolf-like creatures, lived in that vicinity, so it wasn't safe for us to go down there. Huh?
No chance to sneak away, as the leaders of the three groups kept a close eye on us. But while everyone else was paying attention to the guide, the technological ghost-hunting equipment, and stories about previous sightings, I was busily thumbing notes into my phone:
Overcast diffuse light from the moon
Gazebo's white paint glows in the moonlight
Noise from the interstate nonstop – louder at night
Moonlight casts pattern onto boardwalk through the latticework of porch roof shingles
Mesquite porch poles
White church also seems to glow in the moonlight
Roof looks black against the gray moonlit sky
Gothic style windows
Moon shining into Northern House cabin through roof shingles is bright as a spotlight
Nope, we didn't see any ghosts. But I sure would have liked to see those wolf-like creatures! Especially since it was a full-moon night.
What crazy thing have you done for the sake of writing authenticity?
__________________________
Patricia Grady Cox is a member of Western Writers of America and Women Writing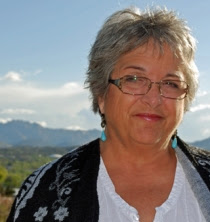 the West. Her nonfiction work has appeared in magazines, newspapers, and ghost-written memoirs. Patricia has volunteered at the Pioneer Arizona Living History Museum where she experienced, first-hand, the realities of life in the 1800s. Her love of the Southwest – the landscape, the history, the culture – infuses her work with authenticity. Originally from Rhode Island, she moved to Arizona 24 years ago and currently lives in Phoenix. Her novel, Chasm Creek, is available on Amazon or through her website. Patricia blogs weekly at Patricia Grady Cox, Writer. Her second novel, HELLGATE, will be released by Five Star Publishing on April 15, 2018, and is available for pre-order.