What Do I LOVE about Marketing and Promotion?
by Patricia Grady Cox
Yes, that was a trick question. Valentine's Day is supposed to be about love, but there is nothing I love about marketing/promotion. I don't know a single person who claims to enjoy the time, effort, and commitment required to successfully market any product, let alone something as difficult to manage as written content. Just finding your audience is hard enough. Then, if you somehow stumble upon the right demographic, you have to design the best way to get their attention and then convince them to buy your offered information, instruction, entertainment, and/or escape.
While I try to attend a many of Laura's presentations as possible with the Phoenix Publishing and Book Promotion Meetup, I also seek out marketing and promotional advice at every conference I attend and read about the topic extensively. Promoting your work is a big part of every writer's life, whether independently published, small-press published, or even a legacy/traditionally published.
As a basis for deciding what advice to follow, I've adapted the SWOT analysis model, used by businesses for strategic planning. What are your Strengths? What are your Weaknesses? Observe the Opportunities. What are the Threats to your plan? (I have paraphrased here, but you get the idea.)
My Strengths, as I see them, are in writing. Which may sound stupid, since I'm a writer, but really … I enjoy writing, all kinds of writing. I enjoy research! I enjoy organizing information and presenting it in a way that readers might find entertaining to read, even if the piece is informative. Even more fun: making stuff up! I've written nonfiction, essays, newspaper articles, newsletters, speeches, plays, television scripts, short stories, and novels. So, writing is my Strength.
My Weakness is in having the confidence to really push for signings, speaking engagements, and sales. I don't like asking others for help or permission, and that's what these seem like to me. I always feel as if people are doing me a favor by granting me a forum. Don't judge me! This is how I feel – it does not necessarily have anything to do with reality. I do publicly speak on occasion and usually end up enjoying it – it's just not my strong suit, compared to other writers I know.
So what Opportunities should I be looking for if writing is my Strength? I comment on threads in Facebook groups or individual postings in order to let folks out there know: (1) I'm alive, (2) I have opinions, and (3) I know something about certain subjects. Along the same lines, I write a blog. I try to be as regular as possible with this, and I try to write entertaining, short pieces with photographs that illustrate some aspect of whatever novel I'm trying to promote. See "My Story to Tell?" as an example of sneaking in some real history while talking about character development.
Threats to my marketing plans? Probably the same as everyone else's out there. Time. Organization. Commitment. Diligence. I'm always working on these threats, trying to overcome, or at least diminish, them. We all know what we have to do. I'm currently promoting a recently self-published novel while another novel, traditionally published, is preparing for launch in April. So far, I have a slot in the Author Pavilion at the Tucson Festival of Books (Saturday, March 10, from 12:15 to 2:15 p.m.) for the self-published Chasm Creek; a book signing in Providence, RI, on Saturday, May 12, for my newest novel, Hellgate, at Books on the Square at 4 p.m.; and closer to home, a signing for Hellgate at the Peregrine Book Company in Prescott at 2 p.m. on Saturday, June 2. I had to overcome my Weakness in order to arrange the appearances, and I'll have to give talks at two of them.
What are your Strengths, Weaknesses, Opportunities, and Threats? What are you doing about them? Is there something you LOVE about marketing and promotion?
_________________________
Patricia Grady Cox is a member of Western Writers of America and Women Writing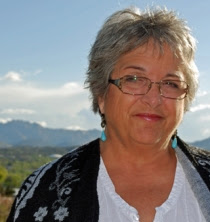 the West. Her nonfiction work has appeared in magazines, newspapers, and ghost-written memoirs. Patricia has volunteered at the Pioneer Arizona Living History Museum where she experienced, first-hand, the realities of life in the 1800s. Her love of the Southwest – the landscape, the history, the culture – infuses her work with authenticity. Originally from Rhode Island, she moved to Arizona 24 years ago and currently lives in Phoenix. Her novel, Chasm Creek, is available on Amazon or through her website. Patricia blogs weekly at Patricia Grady Cox, Writer. Her second novel, HELLGATE, will be released by Five Star Publishing on April 15, 2018, and is available for pre-order.