Finding Your Audience
by Patricia Grady Cox
Just write a good book, and your audience will find you. Ever hear that advice? I have. But I don't believe it. I believe you have to actively market and promote your work if you want anybody to see it. However, you can't target the entire world with your marketing / promotional / advertising budget.
Just as when looking for an agent, a publisher, or a bookstore into which to put your Great American Novel, you must describe it. You have to – let's face it – put it into a pigeon-hole. If you've written a book with a 95-year-old female protagonist who spent decades married to a gay man, it's probably not going to fly with readers who prefer Thriller, Nonfiction, Science Fiction, Fantasy, Horror, Poetry, Romance, or YA. So you don't want to waste your time with agents, publishers, bookstore buyers, or readers interested in those genres. Your goal is to put your book in front of the people who are actually interested in it.
Now, depending on your story, perhaps it could be labeled Historical, Humor/Comedy, Inspirational, Mystery, Paranormal, Western, or Women's Literature. Or maybe . . . not! You have to choose. Unless and until you determine your genre, your marketing will remain scattered and ineffective.
But how to choose?
I looked at a dozen different websites and found a dozen different lists of genres. Some have sub-genres. Some, like "crime fiction," didn't seem to make any list at all. I did not come across any reference to "mainstream" which always seemed to me to be a good catch-all category. Perhaps they call it "General" now. But, really, how helpful is that to your marketing efforts? Not at all.
A couple years ago, I signed up as a vendor at the Payson Book Festival. It's a great event, very professionally done, and the author tables always sell out quickly. Who wouldn't like an excuse to spend a day in Payson, mid-summer? I shared a table with a fellow author who had two YA/Sci-Fi books. I was there with my historical novel set in the American West and an anthology of flash fiction and essays.
My table partner could recognize her audience by looking at them. Every time she saw someone come through the hall's doorway that looked to be between, say, 12 and 20 years of age, she went after them. Literally. She would leave our table and go get them. Several times she came back dragging an apparently "Young Adult" reader with her. She was successful. She sold books.
I did not sell one book that day. So what was I to do? I had written a novel set in Territorial Arizona. Historical. Western. A little paranormal, a little Native American. People who like this kind of book are hard to pick out based on appearance. I was reading historical novels of the West when I was a teenager. Now I have white hair and I still read them. That left my target audience: potentially everybody. As cool as it was there, compared to Phoenix, I didn't have the energy to pitch to every single person who walked by my table.
Step 1.
If in-person determinations of potential readers won't work, maybe online information will, especially since I figure most of my marketing will be done via social media. I decided to take another tack: metadata. I went to Amazon and pulled up books I thought were either similar to mine or that I wished I had written and noted the categories those authors had listed as keywords for searchers.
Larry McMurtry: Westerns, Literature & Fiction, Literary Fiction, Historical Fiction, Classic Literature & Fiction
Pete Dexter: Westerns, Literary Fiction, Literature & Fiction, Historical Fiction, U.S. Historical Fiction, Action & Adventure, Historical Literary Fiction
Cormac McCarthy (I looked only at Blood Meridian: Or the Evening Redness in the West): Westerns, Historical Fiction, Literary Fiction, Literature & Fiction, Classic Literature & Fiction, Action & Adventure Fiction, U.S. Historical Fiction, Western Fiction Classics, Western Horror Fiction (an interesting category that included Stephen King's Dark Tower books and several of Larry McMurtry's).
Thomas Cobb: Westerns, Historical Fiction, Literary Fiction, U.S. Historical Fiction, American Literature.
Then I looked up my own book, Chasm Creek: Westerns, Native American, Historical, Literature and Fiction. That looked right. Now I felt armed with some areas of interest to target on social media.
Step 2.
I went to Facebook and spent two days making a spreadsheet of every Western,
historical, writing, and reading group.
Column 1: name of group.
Column 2: focus of group (Do they allow ads? Do they want posts? Do they want links to blogs?).
Column 3: the group's rules for posting (some restrict ads to certain days, some limit subjects for blogs, etc.).
Column 4: date I posted.
Column 5: results (by which I mean: Did I get any feedback?).
Step 3.
I was so worn out by the time I finished all this that I have yet to post to these groups. I'll save my results for another blog . . .
Please share your method for categorizing your book and then finding your audience on social media!
_______________________
Patricia Grady Cox is a member of Western Writers of America and Women Writing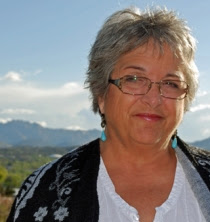 the West. Her nonfiction work has appeared in magazines, newspapers, and ghost-written memoirs. Patricia has volunteered at the Pioneer Arizona Living History Museum where she experienced, first-hand, the realities of life in the 1800s. Her love of the Southwest – the landscape, the history, the culture – infuses her work with authenticity. Originally from Rhode Island, she moved to Arizona 24 years ago and currently lives in Phoenix. Her novel, Chasm Creek, is available on Amazon or through her website. Patricia blogs weekly at Patricia Grady Cox, Writer. Her second novel, HELLGATE, is now on sale.