You Want Me to Talk?
by Patricia Grady Cox
Self-promotion sometimes requires giving presentations at book signings. This is not my favorite thing to do, but I can be cajoled into it. On May 12, I will give a talk at a book signing in Providence, Rhode Island, my home state. This is kind of fun to anticipate because it is the first event for my novel Hellgate (released in April by Five Star Publishing), and I'll get to spend time visiting friends and family.
But then there's that talk I must give. What is my topic? What does anybody want to hear? I've been to many book signings, conference panels, and 10 years of the Tucson Book Festival, where I've listened to other authors talk about their work. I must have learned something from watching all those authors speak.
What I don't like:
Long readings from the book
My thinking is that one should read as short a passage as possible to make your point or illustrate your character/story/setting. Something enticing. Why read so much that (1) the audience gets sick of hearing it or (even worse) (2) you read so much you convince them they're not interested in reading anymore? When I was promoting my first novel, Chasm Creek, I read the last five paragraphs of the first chapter. Less than a page. For my current novel, Hellgate, I have two main characters, both women. I plan to read a little in Rose's point of view, and a little in Aunt Mary Alice's point of view. Maybe a half page each, maybe less. They are the two protagonists and the only POV characters. My hope is to illustrate the difference in voice and setting and perhaps explain why I chose to alternate between the two.
Talking about "My Process"
Over time I've learned that I really don't get much value out of listening to someone else
talk about their writing process. It's not like I'm going to change the way I approach my own work. Believe me, even if they say something that resonates and I think, "What a great idea! I should do that!" I will not do it. I'll continue to write the way I always have, in spurts and stops, when the spirit moves me unless I have a deadline. I think this process thing might be a topic of more interest to readers—who may find the whole creative thing mysterious—or maybe to writers just starting out and struggling to find their own "process."  Really, if someone wants to hear about my process, they can ask during the Q&A session or send me an email. I'm happy to talk about it, but would prefer to limit it to people who are actually interested.
Standing behind a lectern
I know the venue sometimes expects this, but I'd rather stand right in front of the first row of attendees and be less formal. I don't want to feel like I'm lecturing them, and I want them to feel like we're having a conversation.
What I like:
Why did the author write this book?
I like to hear about what compelled them to start and actually complete this particular story. What made this story so important to them? And how did they come up with the story and characters and setting? Do they have a funny anecdote about somebody
inspiring them? Did they stumble upon a topic, piece of research, or place that started their imaginations firing?
What effect did research have on the story?
Did they come across a particularly interesting bit of history that their audience probably hasn't heard? I'd like to hear about that. Did they themselves learn something new in the course of doing research that changed the direction of the story? Any fun stories about visiting out-of-the-way places?
What do they want the reader to get out of the book?
I like to hear this toward the conclusion of their remarks. Surely there is something in particular the author would like the reader to remember, to think about, something that perhaps will change their perspective in some way.
So these are the areas I will aim for in my current promotional activities. I certainly could miss the target. But maybe I'll hit the bullseye and whatever I say will resonate with somebody and they will buy my book!
By the time you read this on the 14th, it will be two days after my first book signing for Hellgate. Let's hope I hit a bullseye.
What do you like/dislike about book signings? If you're a reader, what do you want to hear about? If you're a writer, what do you include in your own talks?
_______________________
Patricia Grady Cox is a member of Western Writers of America and Women Writing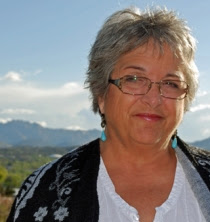 the West. Her nonfiction work has appeared in magazines, newspapers, and ghost-written memoirs. Patricia has volunteered at the Pioneer Arizona Living History Museum where she experienced, first-hand, the realities of life in the 1800s. Her love of the Southwest – the landscape, the history, the culture – infuses her work with authenticity. Originally from Rhode Island, she moved to Arizona 24 years ago and currently lives in Phoenix. Her novel, Chasm Creek, is available on Amazon or through her website. Patricia blogs weekly at Patricia Grady Cox, Writer. Her second novel, HELLGATE, is now on sale.