And Time Goes By . . .
by Patricia Grady Cox
I had a wonderful idea for a blog post. Really. The greatest! Then I looked and saw I had already written about it. It's on my author blog, not the marketing page, but still, I didn't want to repeat myself. My next thought was why am I starting this on the very day I'm supposed to send it in?
That thought led to more thinking about how we work and how to do it more efficiently. I've come up with a few ideas. You might find one that's helpful. Or you might want to share a tip in the Comments section about what helps you get things done.
Make a Schedule
I have a schedule, actually, but it covers my entire life – from walking the dog to house
cleaning. If I didn't check it occasionally, the floors would never get steamed (because I'd forget to do it). I do not have a specific schedule for writing, except that the big schedule commits an hour a day to marketing and an hour a day to writing. That, obviously, is not enough. Once I've allotted more time for writing/marketing, I'll need to figure out how to get everything else done more quickly.
One thing that would open a lot of free time is to quit looking at Facebook. Now, that's an awful thing to say in a blog that's going to be posted on Facebook, but I can attest to the amount of my time that truly is wasted. Hours. An entire hour can go by in the blink of an eye. I do realize nobody is likely to give up Facebook. We love it and we use it for marketing. My answer is only to allow Facebook interactions at night when I'm too tired to do anything else. Instead of watching mindless TV – or while watching mindless TV.
Then I'll need to see if I want to more specifically schedule my writing time. Certain days for writing, other days for marketing? Schedule time for research? I need to work on it.
This schedule doesn't need to be all that complicated. Mine is really more of a "to do" list than anything else. No times are entered. Just a list that I try to get to every day.
Create a Ritual
I have friends who have rituals they practice before they start their writing sessions.
Sometimes it's as simple as lighting a candle. Sometimes it's reading a few paragraphs of something inspiring: an admired author's work, a book on writing, something motivationally inspirational. Sometimes it involves more than that, but I wouldn't want to get too complicated.
I've just recently developed my own ritual. I made the discovery of some wonderful meditation videos on YouTube. I'm not going to offer links. You can easily search within YouTube – there are thousands of them. The one I've been using shows the ocean with waves breaking on the shore. The waves continue throughout the guided meditation, and there is a long stretch with no talking, which allows you to actually meditating on your own. I love it. I've made this my ritual. When I come into my office to work, I first put on my headphones and plug into this meditation. It's only 18 minutes long. And then, miraculously, I'm ready to do some serious work. I think it clears all the other stuff out of my mind so that I can be creative.
Track Your Progress
I have heard from several writers that they record the amount of time they spend writing. I can see how this would be a useful tool, especially if I were to stick to my
commitment not to spend my writing time cruising Facebook! Tracking time spent working on a novel, for instance, and how much on marketing, would allow for any necessary adjustments. If nothing else, on those days I feel my wheels spinning, it might help to know I've actually gotten work done in the past.
So, my new writing practice will include a more specific schedule, a beginning ritual, and keeping a record of time spent on writing/marketing. I have not yet devised a schedule specific to writing or a "time sheet," but I will begin. Not tomorrow. Today.
Please let me know in the Comments section below what works for you in these three areas. Do you have a schedule you follow? How do you set it up? If you have a pre-writing ritual, please share it (if you're comfortable doing so). Do you track your time? If so, why? Thanks!
__________________________
Patricia Grady Cox is a member of Western Writers of America and Women Writing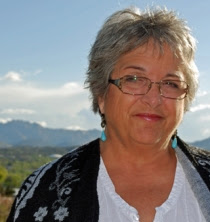 the West. Her nonfiction work has appeared in magazines, newspapers, and ghost-written memoirs. Patricia has volunteered at the Pioneer Arizona Living History Museum where she experienced, first-hand, the realities of life in the 1800s. Her love of the Southwest – the landscape, the history, the culture – infuses her work with authenticity. Originally from Rhode Island, she moved to Arizona 24 years ago and currently lives in Phoenix. Her novel, Chasm Creek, is available on Amazon or through her website. Patricia blogs weekly at Patricia Grady Cox, Writer. Her second novel, HELLGATE, is now on sale.