Someone Else's Book Signing
by Patricia Grady Cox
It's a little unusual to promote someone else's work as part of a marketing plan. However, I feel a need to share the experience I had when I attended a book signing at the Camelback Road location of Changing Hands Bookstore in Phoenix. They have a regular program that introduces debut authors. The June night I went, there were three authors. To be honest, I don't even remember who the other two were. The third one stood out. You may have heard of him by now: Tommy Orange.
Tommy's debut novel, There There, is about 12 characters who are on their way to a powwow in Oakland, California. Each character has their own chapter, their own voice, their own unique and differing story. He paints a picture of the urban Indian in America.
From a marketing standpoint, his novel is on fire. With backing from his major publisher, interviews by numerous prestigious book reviewers, and a book tour that now includes Europe, showing up at an independent book store in Phoenix to appear alongside two other debut authors speaks to his attitude, one of gratitude for the invitation to talk about his work.
What I wanted to share, on this marketing-focused blog, is the impact he had on the audience. Although he is a recent graduate of the MFA program at the Institute of American Indian Arts, where he now teaches, his road to success was not typical.
In a very down-to-earth manner Tommy spoke about being a poor student and attending a technical school to learn audio editing. He graduated right about the time that such editing switched to digital, rather than the reel-to-reel he had learned. So he got a job at a book store, basically as a laborer. There he began to read during his breaks. And, he said, became overwhelmed with a realization of what fiction can do. So he decided to become a writer. He emphasized that it took him six years to write There There. He wrote it while he was going to school to learn how to write.
I think what connected so much with the audience was his attitude. Humble, honest, hoping his work would touch people. When a Native American grandmother in her 80s got up during the Q&A to speak about his book, her praise so touched him that he was wiping away tears. So was I.
The lesson to apply to your own appearances: when you have a chance to speak to people about your work, talk about what emotionally drove you to write your book. Be real, be down-to-earth. That doesn't mean you can't have confidence. It means be yourself, be honest, and be humble.
_______________________
Patricia Grady Cox is a member of Western Writers of America and Women Writing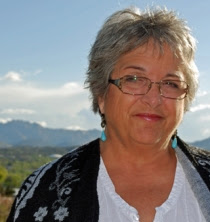 the West. Her nonfiction work has appeared in magazines, newspapers, and ghost-written memoirs. Patricia has volunteered at the Pioneer Arizona Living History Museum where she experienced, first-hand, the realities of life in the 1800s. Her love of the Southwest – the landscape, the history, the culture – infuses her work with authenticity. Originally from Rhode Island, she moved to Arizona 24 years ago and currently lives in Phoenix. Her novel, Chasm Creek, is available on Amazon or through her website. Patricia blogs weekly at Patricia Grady Cox, Writer. Her second novel, HELLGATE, is now on sale.