Did You Get Lucky?
by Patricia Grady Cox
Those of us who attend the meetings of the Phoenix Publishing and Book Promotion group here in the Phoenix area are people determined to be successful. Some of us have published multiple books, some are beginning to work on marketing, and others have only just recently touched a pen to paper (or fingers to a keyboard) to begin their first writing project.
Everything offered at the meetings is designed to help the members achieve their goals. A goal might be traditionally publishing a book, self-publishing an ebook, ramping up sales figures on an existing book, or it could be reaching some personal milestone, whatever that might be.
No matter the goal, no matter the milestone, there is only one way to achieve it.
Wait – no! That way does not involve waiting for luck to come along. The only way to achieve your goal is by doing the work. Sorry!
Take heart, however. There's plenty of help out there! Look for groups (like Phoenix Publishing and Book Promotion) that are dedicated to helping members learn how to flourish.
Take classes – you can find many online for reasonable prices. Masterclass.com offers many online classes, taught by big name celebrities and experts in their field, for a reasonable annual subscription. James Patterson, for example, teaches writing but has a section on marketing. What would that be worth – a marketing lesson from him?
Writers Market offers books, recorded conference sessions and panels, tutorials, and more. You can choose from a topic that applies specifically to your writing project – fiction, nonfiction, screenplays, and more.
Get out there and network! This is my personal favorite. Attend conferences, attend the Tucson Festival of Books, attend book festivals (Tempe Public Library has one coming up on November 3, and Scottsdale Public Library will be hosting a unique activity wherein you donate a book to the library, and if they determine it's suitable you get invited to sell your books at their festival. (All but the first suggestion are free to attend and great places to meet publishers, agents, and other authors.) This is my favorite, because any success I've had has been due to meeting helpful people at these events!
There a million ways to market your work. I'm sure you can find more than what I've offered with an internet search, or in a community college catalog, or through MeetUp. And I'm sure your probably already know all this. So thank you for giving me this opportunity to remind myself!
And remember: Oprah Winfrey famously said, "I believe luck is preparation meeting opportunity. If you hadn't been prepared when the opportunity came along, you wouldn't have been lucky."
I wish you lots of good luck!
__________________________
Patricia Grady Cox is a member of Western Writers of America and Women Writing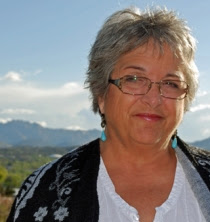 the West. Her nonfiction work has appeared in magazines, newspapers, and ghost-written memoirs. Patricia has volunteered at the Pioneer Arizona Living History Museum where she experienced, first-hand, the realities of life in the 1800s. Her love of the Southwest – the landscape, the history, the culture – infuses her work with authenticity. Originally from Rhode Island, she moved to Arizona 24 years ago and currently lives in Phoenix. Her novel, Chasm Creek, is available on Amazon or through her website. Patricia blogs weekly at Patricia Grady Cox, Writer. Her second novel, HELLGATE, is now on sale.