Year-End Wishes
by Patricia Grady Cox
The end of the year is approaching, and the beginning of the next. I'm not big on resolutions, but last year I did resolve to keep better track of my writing business. And so I created spreadsheets for my expenses and income, as well as notes on the various activities and whether or not they were worth the time/expense. I can use all of this to plan for next year. If you haven't done that before, I recommend it.
And that is the end of my blog on marketing / promotion / sales / writing for 2018! At this transitional time of year, I offer instead some thoughts that may help you to persevere with your goals in 2019.
A friend recently said that optimism is renewing a magazine subscription for a year. Those of us over 60 can appreciate that sentiment, but it is a little too pessimistic for me! Instead, I'll leave you with these words from Ulysses.
Souls that have toil'd, and wrought, and thought with me—
That ever with a frolic welcome took
The thunder and the sunshine, and opposed
Free hearts, free foreheads—you and I are old;
Old age hath yet his honour and his toil;
Death closes all: but something ere the end,
Some work of noble note, may yet be done,
Not unbecoming men that strove with Gods.
The lights begin to twinkle from the rocks:
The long day wanes: the slow moon climbs: the deep
Moans round with many voices. Come, my friends,
'T is not too late to seek a newer world.
Push off, and sitting well in order smite
The sounding furrows; for my purpose holds
To sail beyond the sunset, and the baths
Of all the western stars, until I die.
It may be that the gulfs will wash us down:
It may be we shall touch the Happy Isles,
And see the great Achilles, whom we knew.
Tho' much is taken, much abides; and tho'
We are not now that strength which in old days
Moved earth and heaven, that which we are, we are;
One equal temper of heroic hearts,
Made weak by time and fate, but strong in will
To strive, to seek, to find, and not to yield.
Happy Holidays, and I wish you a wonderful New Year.
Never yield!
Some work of noble note may yet be done!
________________________
Patricia Grady Cox is a member of Western Writers of America and Women Writing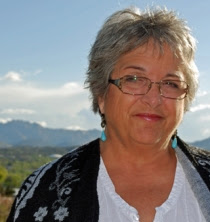 the West. Her nonfiction work has appeared in magazines, newspapers, and ghost-written memoirs. Patricia has volunteered at the Pioneer Arizona Living History Museum where she experienced, first-hand, the realities of life in the 1800s. Her love of the Southwest – the landscape, the history, the culture – infuses her work with authenticity. Originally from Rhode Island, she moved to Arizona 24 years ago and currently lives in Phoenix. Her novel, Chasm Creek, is available on Amazon or through her website. Patricia blogs weekly at Patricia Grady Cox, Writer. Her second novel, HELLGATE, is now on sale.