A New Resolution: Don't Worry About What Doesn't Get Done!
by Patricia Grady Cox
I suppose it's obligatory to write something inspirational for the New Year. After all, it is January. We want to set our goals, put our noses to the grindstone, buckle down, achieve our goals, never give up! We make our resolutions, and then we watch them fade away. It's just too much pressure.
Suppose you say you are going to clean out the garage, landscape the yard, send out resumes for a new job, read 52 books this year. By making a resolution, you have set a goal. Anything less than that is total failure. Or is it?
My new Life Motto is: Better Than Nothing.
Here is how it works:
Suppose you say you must write 500 words a day in order to reach your "write a book in a year" goal. But you only write 300. Or 250. Or 200. Isn't that Better Than Nothing? Of course it is! You accomplished something, which is so much better than accomplishing nothing! You moved forward. What usually happens, though? You missed your goal for the day. You failed, you're done for, you'll never get that book done, and the next day you don't want to write even one sentence! All these negative emotions!
If only you could realize that whatever you accomplished—400 words, 300 words, 200
words, one sentence—you did something. Your 200 words are Better Than Nothing. And then you can go into the next day with a good outlook. Sure, you should aim for your 500 words. But if you don't make it, whatever you did is Better Than Nothing. I apply this to everything. I did say it's my new Life Motto!
If I only walk the dog for 15 minutes instead of a half hour…
If I only clean two rooms instead of the whole house, it's…
If I only go through one file folder instead of the whole cabinet, it's better…
If I only send out 5 queries instead of 25, it's better than…
IT'S BETTER THAN NOTHING!
And all the little pieces that you've managed to accomplish each day will add up, but without stress and anxiety and frustration! It will just add up peacefully and happily as you float through each day knowing you accomplished something! Just anything! It will be (trumpets, please): BETTER THAN NOTHING!
I hope you have a happy New Year of peace and enjoyment and plenty of time for fun. Or maybe just a little bit of peace, a few moments of enjoyment, and some fun!
I don't have to say it again, do I?
______________________
Patricia Grady Cox is a member of Western Writers of America and Women Writing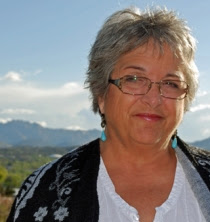 the West. Her nonfiction work has appeared in magazines, newspapers, and ghost-written memoirs. Patricia has volunteered at the Pioneer Arizona Living History Museum where she experienced, first-hand, the realities of life in the 1800s. Her love of the Southwest – the landscape, the history, the culture – infuses her work with authenticity. Originally from Rhode Island, she moved to Arizona 24 years ago and currently lives in Phoenix. Her novel, Chasm Creek, is available on Amazon or through her website. Patricia blogs weekly at Patricia Grady Cox, Writer. Her second novel, HELLGATE, is now on sale.