Little by Little, Piece by Piece
by Patricia Grady Cox
I am pleased to announce the following technological advances I made in 2018 that are helping me with my marketing:
(1) I set up two mailing lists with MailChimp, one for all my subscribers and one for only local (Phoenix area) people.
I don't consider myself a complete technological illiterate, but it did take some effort and some starts and stops. As a result of my targeted e-mails, several people came up to me at two recent book sale/signing events and told me they showed up only because of my e-mail telling them about the events!
(2) Potential readers/followers can now go to my website and click on a BUTTON that will add them to my e-mail list! I was able to follow MailChimp's directions to insert the button. The names are automatically added to my list of subscribers.
(3) I wanted to thank people for signing up (a concept I learned in the Phoenix Publishing & Book Promotion Meetup) with a gift. What did I have of value that I could offer as an inducement to subscribe? I finally came up with it: a PDF download of my anthology, Ramblings.
I worked on this project on and off for almost the entire year. Every time there was a meeting about one aspect, I would try again. I'm easily frustrated, but I kept going back until I got it done.
It's up and running now! Visit PatriciaGradyCox.com and you will see the little, but magical, green button! Try it out, and I will thank you with a free book. I never would have thought of using MailChimp or putting a button on my website or offering a free enticement if not for the Phoenix Book Publishing meetings. If you are in the Phoenix area, you might want to look into joining!
And Happy Valentine's Day! For those with a loving significant other, I hope you have a wonderful day filled with protestations of adoration and maybe some flowers, chocolates, or an evening out. For those who currently have no significant other, I hope you have some good memories that can brighten your day and give you hope for the future. If this holiday is challenging for you, plan something special just for yourself: a walk at a park or botanical garden, a visit to a museum, or a day of decadent ice-cream consumption. And for those who have a four-legged companion, that counts too! Do something special with them. Enjoy!
______________________
Patricia Grady Cox is a member of Western Writers of America and Women Writing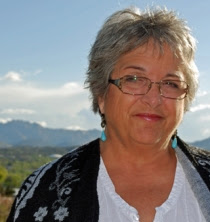 the West. Her nonfiction work has appeared in magazines, newspapers, and ghost-written memoirs. Patricia has volunteered at the Pioneer Arizona Living History Museum where she experienced, first-hand, the realities of life in the 1800s. Her love of the Southwest – the landscape, the history, the culture – infuses her work with authenticity. Originally from Rhode Island, she moved to Arizona 24 years ago and currently lives in Phoenix. Her novel, Chasm Creek, is available on Amazon or through her website. Patricia blogs weekly at Patricia Grady Cox, Writer. Her second novel, HELLGATE, is now on sale.