Please note: the number in parentheses indicates the date on which each writer posts monthly.
Elizabeth Blake (28th)

Elizabeth Blake is a complex woman. She'll tell you that she's not that complicated, that her demands are simple: Coffee, good books, freedom, world domination… Elizabeth Blake is a sorceress of stories, a lover of letters. If you want to get to know her, visit The Mind & Heart of Elizabeth Blake, pick up her books, follow her on social media, buy her a cup of coffee or a glass of wine.
Kebba Buckley Button (2nd)
Kebba Buckley Button is a stress management expert with a natural healing practice. She also is an ordained minister whose passion is helping people find their Peace Within. She is the author of the award-winning book, Discover The Secret Energized You, available on Amazon, plus Inspirations for Peace Within: Quotes and Images to Uplift and Inspire. IPW is available on Amazon in full-color glossy format. Her newest book is Sacred Meditation: Embracing the Divine, also on Amazon in full-color. For full-color PDF versions, contact her office. For an appointment or to ask Kebba to speak for your group: calendar@kebba.com.
Ross Caligiuri (17th)

Did this post pique your interest or curiosity? Connect with Ross Caligiuri through his website, DreamingInTheShadows.com, where you will find copies of his new novel Dreaming in the Shadows available for purchase. Written on this subject and based around a dream he experienced, the series follows a main character with the ability to manipulate people's memories, both past and future, using the powers locked inside of her own subconscious mind.
Barbara Chatzkel (24th)
Barbara Chatzkel's ability to provide a vibrant and behavior-changing book extends
across industry segments – everyone uses business body language. Her coaching and consulting expertise on business body language grew from conducting union negotiations, managing difficult personnel situations, managing at multiple levels, and extensive business coaching experience. Her new book, Business Body Language: Your Visual Business Card, will be available in print in early 2016. Visit her website today for further information.
Patricia Grady Cox (14)
Patricia Grady Cox is a member of Western Writers of America and Women Writing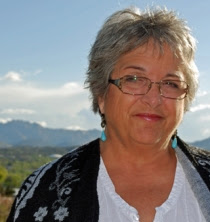 the West. Her nonfiction work has appeared in magazines, newspapers, and ghost-written memoirs. Patricia has volunteered at the Pioneer Arizona Living History Museum where she experienced, first-hand, the realities of life in the 1800s. Her love of the Southwest – the landscape, the history, the culture – infuses her work with authenticity. Originally from Rhode Island, she moved to Arizona 24 years ago and currently lives in Phoenix. Her novel, Chasm Creek, is available on Amazon or through her website. Patricia blogs weekly at Patricia Grady Cox, Writer. Her second novel, HELLGATE, is now on sale.
Brian Flatgard (20th)

Brian Flatgard is a writer and poet living in Phoenix, Arizona. His web site is brianflatgard.com.
Eva Flowerday (17th)

Eva Flowerday recently published her memoir, Magic Headband. She delights in writing about nonfiction topics. Since her first book, she has been approached by others to tell their stories, which she is very excited to do. You can read about her unbelievable life story at MagicHeadbandOfficial.com.
Lara Garcia (15th)
Lara Garcia is a Phoenix- based writer and traditional mixed media
artist. In her poetry, Lara creates word pictures that make readers wonder where she found the courage to reveal such raw emotions. She received her credentials from Wayland Baptist University in Plainview, Texas. Lara will be featuring her newest book Change in Time, along with Writers for Summer Anthology in June 2017. Contact her on Facebook or at laleighh@icloud.com.
Rita Goldner (1st)
Rita Goldner is the author and illustrator of the children's picture book, Orangutan: A
Day in the Rainforest Canopy. Rita has also written and illustrated two eBooks, Jackson's History Adventure and Jackson's Aviation Adventure, in the Jackson's Adventure series. For orangutan facts and images and to purchase the book (also available as an ebook), visit OrangutanDay.com. Or by the Kindle version here. Rita's newest book, Making Marks on the World: A Storybook for Left- and Right-Handed Coloring, is available for purchase here. Works in progress: H2O Rides the Water Cycle, The Flying Artist, and Rose Colored. To view additional illustrations and Rita's books in progress, visit Rita's website. Contact Rita here. Follow Rita on Facebook. Subscribe to Rita's newsletter, Orangutans and More! and receive a free coloring page of today's illustration.
Brad Graber (occasional)
Brad Graber was born and raised in New York City. He obtained a B.A. in Biology from the
State University of New York at Buffalo, and an M.H.A. from Washington University in St. Louis, Miss. Brad is formerly a Fellow of the American College of Healthcare Executives and a Certified Medical Executive through Medical Group Management Association. He no longer works in healthcare, though he does actively volunteer with local nonprofits. The Intersect is Brad's first novel and will be released on Amazon in August 2016. You can reach Brad at Jefbra@sbcglobal.net or bradgraber.com.
Matthew Howard (9th)

Matthew Howard is a self-publishing author who supports award-winning authors and business professionals in writing, editing, designing, and self-publishing their work for global distribution in paperback and ebook formats.
Beth Kozan (3rd)
Beth Kozan is the author of the book Adoption: More Than by Chance and the forthcoming
Helping the Birth Mother You Know. Beth worked in adoption for 35 years and retired to write. She has many more books than these titles to write and will emphasize and explore the concept of community in her additional books. "Growing up in a close agriculture-based, rural community in Texas, I felt the comfort and bonds of caring for others which is often missing in our busy lives today. Exploring and building communities for today is my writer's goal." Follow Beth on Facebook or visit her website, where she reviews books and films featuring adoption.
Justin Larson (8th)
Justin Larson is a social media marketing professional. As a child, he was raised by many
entrepreneurs. His grandparents on his dad's side owned a woodworking business that is now owned by his aunt and uncle. His grandpa on his mom's side owned a construction company and his maternal grandma owned a hair salon. He helped his parents in their woodworking machinery and lumber business, doing computer work and posting products online. He even helped create their first business website. It wasn't perfect, but he knew from that moment on this was what he wanted to spend his life doing. Now he works with authors and small business owners who want to grow their businesses. Although social media is free to use, it can help explode business growth if used properly. Visit GreenForestMarketing.com to learn more.
Marcus Nannini (31st)
Marcus Nannini began his journalistic career when he published his own newspaper in the
sixth grade, charging 25 cents for the privilege of reading the only printed copy of each edition. During his undergraduate years, Nannini was a paid reporter and worked three semesters as the research assistant for journalism professor and published author Richard Stocks Carlson, Ph.D. Nannini is a life-long history buff with a particular interest in World War II and the Pearl Harbor attack. His continuing curiosity over several Japanese aerial photographs and the turtling of the U.S.S. Oklahoma lead him to write Chameleons, first as a screenplay and now as a full-length novel.
Laura Orsini (23rd)
LAURA ORSINI is a self-publishing consultant who works with authors who want to
change the world. From concept to publication to the first-time author's book launch, her expertise will help you make a better book and find more readers. Laura is the organizer of the popular and successful Phoenix Publishing and Book Promotion Meetup, creator of the Holiday Author Event, and conjuror of many other author opportunities. She will explore the power of the group in her posts for this group blog. In the meantime, read her regular posts at Marcie Brock – Book Marketing Maven. Friend her on Facebook, follow her on Twitter, and check out her pins on Pinterest.
Janine R. Pestel (12th)
Author of The Mons Connection and Infected and Other Short Stories as well as short
stories in the scifi / occult / horror genre(s) and an upcoming paranormal / occult series. Always interested in science fiction, action adventure, and comedy, Janine tried her hand at writing a book back in the 1970s but did not have the direction she needed to complete it. Now, many years later, she has the drive and direction to write a complete book. Her only regret is that it took her this long to get going. Find her on Facebook.
Barbara Renner (22nd)
Barbara Renner and her husband have lived in Phoenix for more than 40 years. As "Sun
Birds," they fly away to Minnesota to escape the summer heat – and to fish. While in Minnesota, Barbara became fascinated with its state bird, the Common Loon, and was prompted to write four picture books about Lonnie the Loon, because everyone should know about loons. However, books about loons don't sell very well in the desert, so she is writing a new series of picture books about Quincy the Quail. Barbara is working on other children's books, including a picture book about Trumpeter Swans, which will be launched soon. Her yellow lab mix, Larry, is the wise main character in a work in progress called Larry's Words of Wisdom. Learn more about Barbara at RennerWrites.com, as well as on Twitter, Facebook, and GoodReads.
Robert Scanlan (occasional)
Robert Scanlan recently published Tigers Under My Bed: Life Lessons Tamed During
Three Organ Transplants, a five-star rated book on Amazon.com. He is a recipient of three organ transplants over the past 17 years, and the recipient of awards from Donate Life in both California and Arizona for his work in promoting donor registration. Robert facilitated the liver transplant support group at UCLA under the auspices of the Clinical Social Services Department for two years. He is a lecturer at USC in Los Angeles in their post graduate program for social workers. His speaking engagements have addressed thousands of nurses, doctors, patients, and the general public. Reach Robert via LinkedIn.com or at Robert@tigersundermybed.com . You can subscribe to his blog at TigersUnderMyBed.com.
Katrina Shawver (21st)
Katrina Shawver is the author of Henry, A Polish Swimmer's True Story of Friendship from Auschwitz to America, officially released on November 1, 2017. The book is published through Koehler Books and is available in hardback, paperback, and ebook formats on most book sites worldwide. Visit KatrinaShawver.com where she blogs regularly.
Mary Ellen Stepanich (25th)

Dr. Stepanich is a retired professor of organizational behavior. She told her students at Purdue, "I'm very organized, but my behavior's a bit wonky." Her publications include academic journal articles; stories in Good Old Days magazine; a memoir, D is for Dysfunctional … and Doo-Wop; a novel, The Doo-Wops and the B-Flat Murder; and an award-winning radio play, Voices From the Front. Mary Ellen blogs on her website at MaryEllenStepanich.com, and can be reached via e-mail at DrStep@cox.net.
C.K. Thomas (29th)

C.K. Thomas lives in Phoenix, Arizona. Before retiring, she worked for Phoenix Newspapers while raising three children and later as communications editor for a large United Methodist Church. The Storm Women is her fourth novel and the third in the Arrowstar series about adventurous women of the desert Southwest. Follow her blog: We-Tired and Writing Blog.
Joe Torres (30th)

Joe Torres writes sci-fi adventure with heart. He is currently working on his first novel, Force of Nature. Joe lives in Gilbert, Ariz., with his wife and either the most amazing child on the planet or a demon from the depths of hell, depending on which side of nap time you find yourself. 
Vaughn Treude (7th)
Vaughn Treude grew up on a farm in North Dakota. The remoteness of his home, with few children nearby, made science fiction a welcome escape. After many years in software, he realized that the discipline of engineering could be applied to writing fiction. Check out his works at VaughnTreude.com and look for his exciting new website, SteampunkDesperado.com, coming soon!

Cody Wagner (5th)

Cody Wagner loves to sing, mime (not really), and write. His award-winning debut novel, The Gay Teen's Guide to Defeating a Siren, recently "came out." See what he did there? Check out his writing and see more of his wackiness at Wagner-Writer.com, or find him on Twitter (@cfjwagner), Goodreads, and Amazon.
Kathleen Watson (19th)

Kathleen Watson has nearly three decades of experience as an independent business writer, serving clients in both corporate and academic settings. Her weekly blog, Killer Tips from The Ruthless Editor, offers practical word and punctuation tips, as does her recently published book Grammar For People Who Hate Rules: Killer Tips From The Ruthless Editor. Contact her at: Kathy@RuthlessEditor.com.