Local Venue Highlights Phoenix-Area Writers
by Patricia Grady Cox
A friend of mine recently participated in a relatively new event for writers: Spillers. It takes place every three months at the Crescent Ballroom in downtown Phoenix. You can get all the information about this event on the Spillers website.
The event is hosted by Robert Hoekman Jr and Brian Dunn, both writers who wanted to
showcase local short fiction. According to their website, "Spillers is Phoenix's premier short fiction storytelling event. Held quarterly, we handpick 6 of Phoenix's best writers, put them on a stage, feature them in 2 episodes of the Spillers After Show podcast, and publish their stories in a collectible book available the night of the event."
This storytelling spectacle began in August 2015. My friend David Waid participated recently in Spillers No. 4. He read an original short story.
What is the value to an author? Each event is advertised on the Spillers website and their Facebook page. Each author is introduced with a bio and a link to their website. David's intro:
David Waid
Website
David has two published short stories available on Amazon: "Wicked and Loving Lies" and "Festival of Rogues." His debut novel, The Conjurers, is currently available for pre-order and publishes on June 1st.
As you can see, David's upcoming novel and previously published short stories are now showcased in the event announcement, in the live introduction at the event, and in the book that is published for each event. The audience is not only exposed to this information, but gets to hear the author read his own work, which undoubtedly will drive them to his website so they can discover his novel. This is great publicity that lends itself to word-of-mouth. Free! And the publicity continues!
Each participant is interviewed after the show, and the interview podcast is posted at the Spillers After Show page. David's will appear in June.
Here are what I see as the promotional benefits:
You get to introduce yourself and show off your writing/reading prowess to a live audience.
Your reading and a subsequent podcast of your interview with the Spillers creators is published on their site. .
I imagine ALL of the participating authors have been sending people to this website. Certainly, once a reader arrives. they would be driven to look at the other offerings.
If this is something that interests you, submit your short story via the Spillers website and hope to be invited to read. David's experience was, in his words, "Amazing!"
NOTE: Photos used with permission.
________________
Patricia Grady Cox is a member of Western Writers of America and Women Writing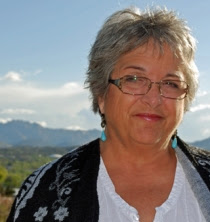 the West. Her nonfiction work has appeared in magazines, newspapers, and ghost-written memoirs. Patricia has volunteered at the Pioneer Arizona Living History Museum where she experienced, first-hand, the realities of life in the 1800s. Her love of the Southwest – the landscape, the history, the culture – infuses her work with authenticity. Originally from Rhode Island, she moved to Arizona 24 years ago and currently lives in Phoenix. Her debut novel, Chasm Creek, is currently available on Amazon or visit her website. Patricia blogs weekly at Patricia Grady Cox, Writer.