Tracking Results
by Patricia Grady Cox
I admit it's difficult, with my right-brain tendencies, to analyze my marketing results. It's only been a couple of months since I really started working at marketing again, with regular weekly postings on more than 60 Facebook groups. In fact, October 8 was
my first such posting, a blog featuring my newest novel, Hellgate. So it's really only been about a month.
I've noticed a small uptick in sales. A problem is that I can't get good figures on Hellgate, which is published traditionally. I have access to the self-proclaimed inaccurate reports on Author Central, which don't include Kindle sales.
I posted about Chasm Creek, and nothing happened. The following week, I put up an ad for Hellgate, and two Kindle versions of Chasm Creek were downloaded. Now, it may be that there were sales of Hellgate. But if I don't want to keep bothering my editor for sales figures, I'll have to wait until next spring to find out.
I do have some anecdotal results: when I post a review, I tend to get a lot more "likes" than with a blog post. But when I posted an ad for Hellgate featuring my dog, Mustang Sally, the "likes" and "loves" were off the chart. People even shared my post to other reader's group pages and made comments, to which I replied, which is the beginning of real interaction.
Consistency is important. The steady increase in likes on my posts may be attributed to that, rather than the cute dog ad (sorry, Sally!). My plan is to continue with the weekly postings, alternating between the two books and, soon, the large-print edition of Chasm Creek.
I recently participated in the Tempe Book Festival. I sold
two books there, but many people stopped to look at my books, chat, and take a rack card. I may see results from that down the road. Also, I met a woman who invited me to submit my books for consideration to Sibley's West, a store in Chandler that sells all things Arizona. (Note: This link takes you to a submissions page. They are possibly interested in books set in Arizona. Bonus if the author is an Arizona resident. If you submit a book, they also want a picture of the cover.)
I plan to continue the in-person marketing. I'm participating in Laura's Author Holiday Open House on November 28 and attending the KJZZ Author Showcase taking place in Glendale on December 1. These opportunities can pay off in ways not immediately apparent, some of them are free, they
offer good practice in pitching your books, and they're fun!
Writers: Do you have a scattershot approach to marketing (as I seem to) or do you concentrate in one area? What has worked for you?
Readers: Do you attend book festivals? If so, why? If not, why?
Thank you so much! I hope to see you at one of the festivals mentioned above!
____________________________
Patricia Grady Cox is a member of Western Writers of America and Women Writing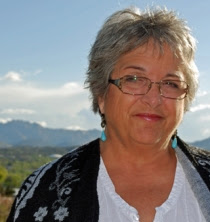 the West. Her nonfiction work has appeared in magazines, newspapers, and ghost-written memoirs. Patricia has volunteered at the Pioneer Arizona Living History Museum where she experienced, first-hand, the realities of life in the 1800s. Her love of the Southwest – the landscape, the history, the culture – infuses her work with authenticity. Originally from Rhode Island, she moved to Arizona 24 years ago and currently lives in Phoenix. Her novel, Chasm Creek, is available on Amazon or through her website. Patricia blogs weekly at Patricia Grady Cox, Writer. Her second novel, HELLGATE, is now on sale.