There's Always Room for Improvement
by Patricia Grady Cox
The annual Tucson Festival of Books is the greatest weekend of the year for readers and writers. With 130,000 attendees, it's the perfect place to market your book. Except … 350 authors and presenters are selling their books in the book stores and UA tents. Then, countless booths filled with individual authors, small presses, and writing organizations, all promoting their books, compete for the attention of those attendees.
I had done this before, in 2015, and I sold one book.
I puzzled over how to stand out, to do better than the last time.
I picked a good time slot – 12:15 to 2:15 -p.m. – when people would be most likely taking a break, wandering around, looking for lunch and maybe a book to buy or an author to talk to. And then I gave my display and myself a makeover! As embarrassing as it is to share the 2015 photos, I offer them up for comparison's sake.
This year, I sold my first book before I had finished setting up. After I started taking down my display, I made my last sale.
Besides the makeover, I believe two other factors added to my modest (but improved) success this year.
I displayed three books: my second edition Chasm Creek, my new release, Hellgate, and Ramblings, a chapbook of essays, flash fiction, and short stories.
I asked myself, "Who will be at this festival?" People who live in Tucson and people who're visiting. Either would have an affinity for this state. By presenting my work as "Novels of the Arizona Territory," I narrowed down the settings and the time frame.
It worked. I had a fairly steady stream of people stopping at my table. Some bought books, some took bookmarks and asked if they could get them on Kindle (yes), some just wanted to chat about Arizona and their love for the state. I added names to my email list.
I did not make a lot of money, but I met a lot of people. And I had a good time chatting with them (even the woman from central California who was "roasting" on the overcast, 70-degree day).
Now I feel confident I can attract people to my display, even with thousands of competitors at a venue like the Tucson Festival of Books. What would happen if I set up a booth at an arts and crafts fair, a farmer's market, a local festival of some sort? What if I sold my books on one half of a table, and photo prints of Arizona landscapes on the other half? I'm ready to try it!
Have you analyzed your approach to selling from a booth? What changes could you make?
___________________
Patricia Grady Cox is a member of Western Writers of America and Women Writing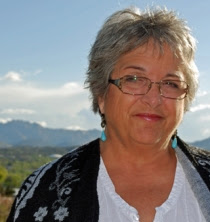 the West. Her nonfiction work has appeared in magazines, newspapers, and ghost-written memoirs. Patricia has volunteered at the Pioneer Arizona Living History Museum where she experienced, first-hand, the realities of life in the 1800s. Her love of the Southwest – the landscape, the history, the culture – infuses her work with authenticity. Originally from Rhode Island, she moved to Arizona 24 years ago and currently lives in Phoenix. Her novel, Chasm Creek, is available on Amazon or through her website. Patricia blogs weekly at Patricia Grady Cox, Writer. Her second novel, HELLGATE, will be released by Five Star Publishing on April 15, 2018, and is available for pre-order.